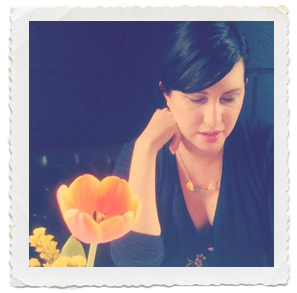 Marisa Avelar is a graphic designer, painter, and mixed media artist born and raised in Houston, TX. She spent 4 years in the Savannah, GA area where she received her B.F.A. in Art with an emphasis in graphic design and painting from Georgia Southern University. Recently, she has relocated with her husband to Brooklyn, NY.
After beginning with traditional oil works, she ventured into mixed media pieces combining paint, found objects, fabric and her own photography. As a fine artist, her influences include the magic realism of her Latin American culture and the art of the dadaists. In her work she attempts to capture moments and memories and evoke the sense of wonder and magic in life that we often forget.

As a graphic designer, she loves the play of type and vintage advertising as well as the clean beautiful work of the modernists. She loves everything vintage and kitschy, quirky album covers, vibrant colors and anything that has personality.
Marisa has loved staying active in the Houston art scene and has volunteered a lot of her time with AIGA Houston and the Aurora Picture Show, a non-profit microcinema that showcases short films and new media. Her work has been exhibited at various local venues in Houston including, Lawndale Art Center, Hello-Lucky, Cactus Music, Fresh Arts, and My Flaming Heart.

To learn a little more here are some awesome features over the years:


SHOUTOUTHTX Interview, December 2020

Voyage Houston Interview, February 2019

Guide to Houston for Design *Sponge

Small Things In Big Numbers,"Bad Ass" Ladies Series Interview
Rice Design Alliance, Article about the first Pecha Kucha Houston, Speaker

AIGA December 2009 Professional Spotlight